Let Go of Your Sorrows? What To Make of Derry's Temple
How do you say the unsayable?

Translate the untranslatable? It makes sense that David Best, a sculptor deeply embedded in the "you can't understand it until you've been to it" Burning Man festival would come to Derry, Northern Ireland with ingredients for a community project designed around reflection and release. Sponsored and organized by Artichoke Trust, which specializes in helping artists engage communities in larger-than-life installations located in unpredictable spaces, Temple was conceived as a community process. To build it. To inhabit it. To witness as it burned.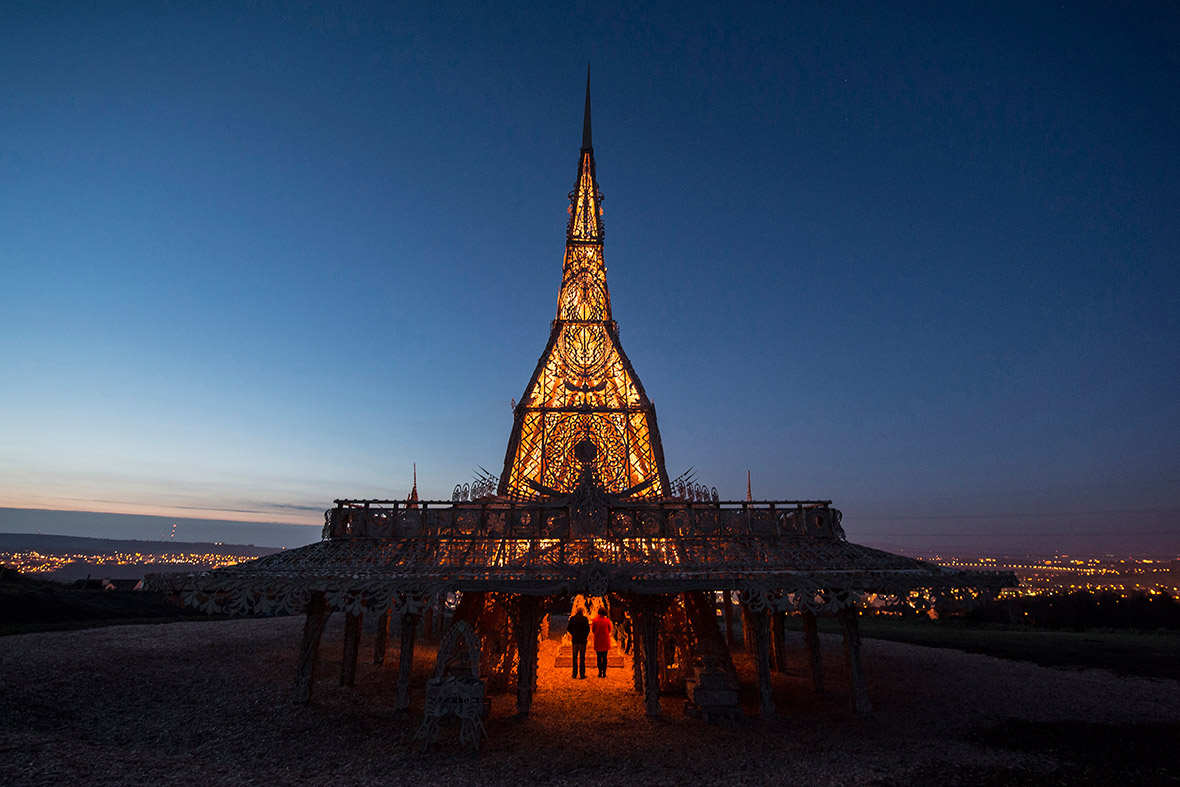 According to Best, the point of Temple was twofold: to create a space for catharsis and to reframe bonfires. Bonfires, of course, have a long history in Northern Ireland. There were fires to commemorate the 12th, the Relief of Derry in August, and then tit-for-tat bonfires to observe Lady Day, or the feast of the Assumption of Mary a couple days later. And those bonfires, it is said, are artifacts of the ancient bonfires lit to celebrate Lúnasa, the harvest "festival of light." December would see Lundy's effigy burn.

I've never really thought of Derry as a bonfire-obsessed city, though it has had its share. But those huge towers of tires that you'd see around Belfast and in towns up the eastern coast? Not so much. One in the Fountain, always. A few in some of the other estates, perhaps.
When Best discussed the project, he framed it as a way of healing in post-conflict society and as a celebration of the fact that Troubles are over. "What I was building was a piece of celebration, that people of Ireland have come to grips with the Troubles - and this is a place for them to celebrate their accomplishments."




From what I heard, saw and read, it was much more ecumenical -- more universal --than that. As my friend and colleague Billy Scampton, who was a steward for the event and spent most of last week up at the site, wrote, it was a "chosen place" for people to bring "their burdens, their hopes, their sorrows and their tears..." and it fostered a kind of understanding, "that we are all making our way through life, for better, for worse, as best we can."
In a place where memory is so contested, the un-contestability of one's experience is a rare and a powerful thing. The temple was constructed from ornate, carved wood filigree. It stood atop Corrody Hill on the city's Waterside -- to my mind the site of the most astounding views of Derry. The spire of the temple echoed its imposing double across the river at the Church of Ireland cathedral, St. Columb's.
Work schemes and students involved in carpentry and allied trades worked on it. And then 60,000 people, more or less, came to visit. They streamed in all day, all evening. They were invited to bring artifacts of their lives, documentation of their sorrows, small snippets of their stories, to leave behind. Hundreds did so. At first glance, that seems like a small percentage. But in Derry, it seems like a lot.
I wasn't in Derry, so I can't say for sure. But from where I sit, thousands of miles away, Temple might have actually meant something. It might have made a difference for people. It was international, cosmopolitan, creative. It validated the sorrows and the sufferings of the people of the city, but it was not prescriptive. There were no clear expectations for how the city should react to Temple, how they should frame their memories, how they should express them. No one was watching to see what you'd say about your history, your memory. No one was going to use it.

Temple was also spiritual without being religious. Other than the folks who thought it was pagan and satanical, it seems to me that people appreciated the symbolism of hallowed ground high above the city and of the cleansing power of fire. Build a temple to your pain and then burn it. That ephemerality.

When I first heard about Temple, I was pretty agnostic. It seemed a tiny bit schmalzy, frankly, and the idea is anything but new. Damian Gorman and the An Crann: The Tree folks came up with the notion of an anonymous, open, totally pluralistic receptacle for memories and stories of the people of Northern Ireland more than twenty years ago.
(When an American comes up with the idea, are people more apt to listen?)

What I like most about it, upon reflection, is that it was a process. People collaborated to build it. They met and rubbed elbows in a real-life public space that wasn't commercial, wasn't there to entertain, wasn't sensational (or at least, not really.) And those gathered were not there to help others -- Derry is like no other city when it comes to volunteer activities, fund drives, fundraiser walks and the like. The city marshals support to help others. This time, people came for themselves and to bear witness.

Despite its American design origins, it was for them. It was for Derry people -- not for tourists, not for visitors, not for academics or consumers of the city's history. A temple to Derry. May its healing

power live on.
Temple sculptor David Best and Billy Scampton